Christ the King Louisville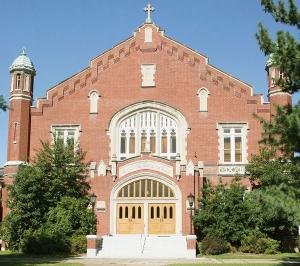 Clergy
Pastor: Rev. Christopher S. Rhodes
Senior Associate: Rev. Thomas E. Gentile
Permanent Deacon: K. Michael Burchett
Pastoral Staff
Formation Minister: Loueva Moss
Worship Minister: Deborah Wade
Parish Administrator/Business & Rental Manager: Bob Frazier
Secretary: Carolyn Moore
Mass Schedule
Sundays — Sun: 11 a.m.
Holy Days — Holy Day: See bulletin
Reconciliation
By Appointment
History
Christ the King Parish was formed in 1927 with Father Francis Martin as the first pastor. Irish and German Catholics built a church and opened a school, directed by the Sisters of Loretto, who have continued as a vital part of the parish faith-journey. The 1937 flood seriously damaged these buildings and parishioners' homes. A monthly automobile raffle in the 1950s raised funds to expand the school; enrollment peaked at 648 in 1957.
The parish evolved as largely African American in the 1960s. Racism and discrimination eventually gave way as new parishioners brought their gifts to the parish and school; Mrs. Barbara Dowell was the first African-American teacher. Lay leadership emerged in the post-Vatican II era, with the first parish council in 1969 and the first lay ministers of the Eucharist, Mr. Herman Berding and Brother (later Father) Edward Branch, C.F.X., appointed in 1970. All Saints Preparatory Academy blended students from Christ the King into a regional school between 1990 and 1995, when shrinking enrollment forced it to close.
The Jubilee Year 2000 was marked by forgiveness of the parish debt to the Archdiocese and by a major grant from the Archdiocese for repairs.
Responding to the call for evangelization and serving human needs, Christ the King has developed outreach ministries beyond the church walls. Besides constructing twenty-four units of senior housing, the parish filled its school buildings with a preschool, a day-care center for mentally challenged teens and adults, a music academy for boys and girls, the St. Vincent de Paul Society, and ministries to the homebound, hospitalized, and imprisoned.
Since 2003, Christ the King has shared its pastor with Immaculate Heart of Mary Parish and has engaged in strategic planning. With 300 parishioners, worship is warm and uplifting. Extensively trained lay leaders with gifted clergy and religious serve the community.