Local Women Religious & the Civil War
During the month of April the Archdiocese of Louisville celebrates its anniversary, as on April 8, 1808, Bardstown was established as the first inland diocese in the United States on the same day that the dioceses of Boston, New York, and Philadelphia were established.  Occasionally, the Catholic Connection features historical articles. This one features religious women serving in the Civil War and how their stories are being preserved through digitally through immersive apps: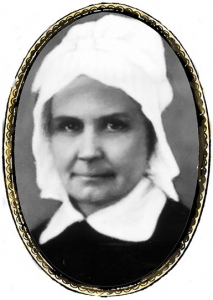 At the onset of the Civil War, Catholic sisters were asked by President Lincoln to help serve as nurses in the war hospitals slowly springing up around the country. Although Lincoln was not Catholic, he grew up near a convent in rural Kentucky, so he was familiar with Sisters and their willing hearts. Among the first orders to volunteer were the Sisters of Charity of Nazareth, Kentucky and the Sisters of the Holy Cross, Notre Dame, Indiana.  In all, there would be about 600 Sisters from at least 12 different orders that served as nurses, and unfortunately their poignant stories are quickly being lost to time.
A hundred and fifty-five years ago, Louisville was a thriving city hugging the banks of the Ohio River. River traffic jammed the docks competing for a prime place to tie up. Strident sounds of steamboat whistles contrasted with the ebullient calliopes announcing the continuous arrivals and departures. Street-wise pedestrians walked cautiously across the busy avenues, bustling with horse drawn buggies, wagons, or lone riders.  On nearly every corner young newsies cried out the latest war headlines. Adding to the chaos were thousands of wounded and dying soldiers transported from recent battles to the city by train and boat. Few Louisvillians were ready to deal with the numbers of wounded and dying, and supplies were scant.
Less than a year after the war began, we have a first-hand account of the Sisters' heroism:  "[After the battle of Shiloh] a body of charitable citizens of Louisville chartered a boat and, in company of Doctors, soldiers and [Sister] nurses, went to the scene of the battle [Shiloh] and brought as many as possible of the wounded to Louisville… The boats did not arrive till late at night and then was enacted a scene that I shall never forget. The Blue and Gray, maimed and suffering, and on all sides were heard such exclamations as: 'O, Sister, come quickly! This man is bleeding to death' – 'Bring a glass of stimulants to this fainting man' – Heads, hands and hearts were all taxed to their utmost, striving to alleviate the suffering of the poor men, irrespective of the cause they served." -Sister Lauretta Maher, SCN.
It is impressive how the Catholic sisters faced difficulties head on, and by doing so saved countless lives. Throughout the Civil War, the Sisters never hesitated to go onto battlefields to succor the wounded and dying.  Other Sisters worked in "pest-houses," full of those suffering from contagious diseases. In many cases, Mother Superiors were relied on to be the hospital director, fundraiser, quartermaster of supplies, and manager of lay women volunteers and associated medical staff.
A letter written by General W.T. Sherman makes clear how the armies depended on the Sisters' abilities to improve the war hospitals.
"Dear Sir[Mother] Angela who bears this has had charge of the Mound city hospital and now of the Overton Hospital and is now going to Louisville at your call.  I have been acquainted with her since her childhood and know the great Energy of her character and believe that through you she may be made the Instrument of Infinite Good, in so organizing our General Hospitals that a soldier may not be retained in there one hour after he convalesces.
W T Sherman
Maj Genl"
The sister-nurses helped establish medical protocols and procedures that became the roots of the modern nursing profession.  Those that served on the naval hospital ships became the foremothers of the Naval Nursing Service.
These stories are now being told digitally in immersive "apps" or applications. This unique fashion of presenting history includes photographs, movies, music, voice-overs and more – all woven through these important histories of women religious. One example is Civil War Truce – Remarkable Story of Sister Lucy, SCN, a young Sister of Charity of Nazareth and musical prodigy, who served as a nurse in Kentucky early in the Civil War.
These apps recently won a gold medal from The Illumination Book Awards for Exemplary Christian Books by the prestigious Jenkins Group. Davis Studio Publishing, a tiny, Louisville based, digital studio is dedicated to revealing history's stories of kindness and faith.
Our latest project is to share these heart-touching stories about all the orders of Catholic sisters who served as nurses during the American Civil War. How can you help? By buying an app, leaving a review and spreading the word, you are helping us continue our mission to save and share these impressive stories. We also would love to come and give a presentation to your church group, school or book club.
It is our hope that the Sisters' stories will take their rightful place in women's history and U.S. history as a whole.  A portion of the proceeds will go to the Sisters of Charity of Nazareth and to the Sisters of the Holy Cross ministries.
Contact Marie at willingheartsapp@yahoo.com for more information. Please visit the website www.willingheartsapp.com for more stories, photos, and information.