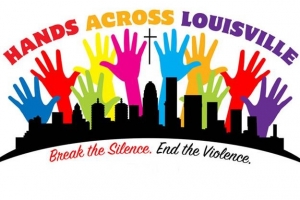 Joining "Hands Across Louisville"
Are you interested in expressing your concern about rising gun violence in Louisville?  If so, join Hands Across Louisville for its second annual "Hands Across Louisville" prayer event on Saturday, May 13 from 2 to 3 p.m.
Hands Across Louisville is a faith-based group formed to help stamp out gun violence by collaboratively and collectively work to reclaim and rebuild our community, especially in West Louisville, through education and empowerment.
The day will begin at 31st & Broadway in front of Saint Martin dePorres Catholic Church.   Speakers and entertainment will be featured from 10 a.m. to 5 p.m, except for the hand-holding portion of the day, which will be held from 2 to 3 p.m.
During the hand-holding portion of the day, individuals will line up along Broadway from Cave Hill Cemetery on the east to Shawnee Park on the west to hold hands, sing, and pray.
Catholic parishes have been invited to sponsor each block along that route, so please check with your parish to see if it is sponsoring a block.  Parishes also may join together to sponsor a block. Epiphany Catholic Church in East Louisville and Saint Martin de Porres in West Louisville  have worked together for several years on social concerns issues and have joined together to support this effort last year and this year.
If your parish isn't involved, individuals are more than welcome to join in wherever there is a need along the Broadway route.
There will be one or two small TARC buses making a circuit along Broadway from 10 a.m. to 4 p.m. that day.  Those who are participating in the hand-holding event may park on any side street along Broadway or at the Kroger parking lot at 27th & Broadway.   If you want to come to the staging area at Saint Martin de Porres first, you may catch the bus to go to any point along Broadway where blocks are sponsored or where you wish to participate individually.  TARC transportation will be free if you tell the driver that you are participating in Hands Across Louisville.  Just be sure to thank the driver for TARC's generous contribution to this event.
Come early for speakers and entertainment, catch the bus to your assigned or chosen block for the 2 p.m. assembly, and return to the staging area for the closing prayer service.  You can attend for any part of the day, as long as you are here from 2 to 3 pm.
For more information, contact:  Rosemary Smith (502) 267-4344/(502)767-5368  rosieblue1941@gmail.com or Kim Telesford-Mapp (502)235-6733/(502)776-5785  kmapp@fhclouisville.org.