Father John W. (Jack) Hanrahan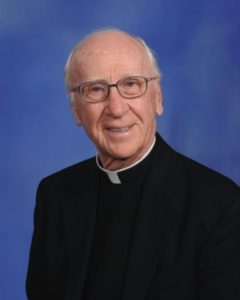 Date of Birth: February 17, 1929
Date of Ordination: March 26, 1955
Date of Death: November 5, 2017
Reverend John W. "Jack" Hanrahan, a retired priest of the Archdiocese of Louisville, died Saturday, November 5, at the age of 88. A native of Louisville, Father Hanrahan was baptized at Holy Name Parish. He attended Holy Name Elementary School and Saint Mary's College in St. Mary, Kentucky for high school and college.
After completing major seminary at Saint Meinrad Seminary and his ordination on March 26, 1955, Father Hanrahan began his priestly duties as a teacher for Trinity High School while serving as the Assistant Pastor at Saint Barnabas Parish.  He earned a canon law degree at the Catholic University of America in Washington, D.C. from 1957-1959.  Upon his return, he held positions for the Archdiocese of Louisville as Secretary from 1959-1967, and as Chancellor from 1967-1982.  He also served at the Tribunal, beginning in 1969 and as a religion teacher at Presentation High School from 1959-1967.  In 1982, Fr. Hanrahan was appointed as Pastor of Our Mother of Sorrows Parish, where he served until his retirement in 1999.
The concelebrated Mass of Christian Burial will be celebrated on Thursday, November 9 at 11:00 a.m. at Our Mother of Sorrows Church, 747 Harrison Avenue, Louisville. Visitation will be held at Embry-Bosse Funeral Home, 2723 Preston Highway, from 4:00 to 8:00 p.m. on Wednesday, November 8 and at Our Mother of Sorrows Church on Thursday, November 9 from 9:00 to 11:00 a.m. Burial will be in Calvary Cemetery following the funeral liturgy.