Welcome!
The following pages were designed to assist you with your evangelization efforts.  Just click on any of the links below for more.  If you are in need of further assistance please contact me. 
Director of Evangelization
Purpose
To coordinate, in collaboration with the agencies of the Archdiocese, evangelization initiatives, especially the directions called for by the Synod on the New Evangelization, with a special focus on parish evangelization.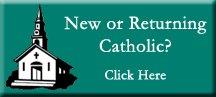 Location
The Chancery
212 East College Street
Mailing address: P.O. Box 1073, Louisville, KY 40201-1073
(502) 585-3291 • Fax: (502) 585-2466