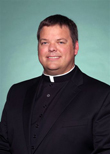 Welcome!
When the angel Gabriel appeared to Mary announcing God's great favor, her response was one of loving trust. "Let it be done to me according to your word." She did not have complete understanding of what those words meant or would mean, but she did have the desire for God's will to be done and she placed her trust in him. She openly received the gift God desired to give her and the world, his beloved son Jesus.
Mary is a model for us. As we hear a call from God to priesthood, diaconate, consecrated life as a religious brother or sister, married life open to children, or chaste single life, we don't always completely understand what that may mean for us. In addition, the call may not come to us as a miraculous angelic visitation, but through a still small voice, the suggestions of others, or the feeling of consolation we receive from service or imagining ourselves fulfilling the call. Our response, however, can be the same as hers: trust in God's will for us; a generous yes to his call.
This website will hopefully help you with information, stories, links, and videos about responding to God's call. We have a great confidence that God continues to call men and women of all races, cultures, languages, educational backgrounds, economic levels, interests and personality types to follow him. May you, like Mary, have the courage to say yes. We are waiting to help you on your journey. Contact us for assistance, prayer, or more information.
Rev. Jeff Shooner
Vicar for Priests
"Every vocation is part of a divine plan…It is God who loves us, who is Love, who calls us."
Pope Benedict XVI
Find us on social media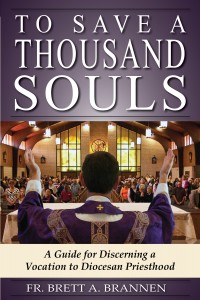 Click on here to receive a free copy of the book, To Save a Thousand Souls: A Guide for Discerning a Vocation to the Diocesan Priesthoodby: Fr. Brett A. Brannen

"An unparalleled resource that covers everything men need to know when praying about their vocation. It will be required reading for many men."
– Msgr. Rob Panke, President of the National Conference of Diocesan Vocation Directors.
CLICK HERE to view the publication "Priesthood and Vocations: A Call for Renewal – 2006″
Contact Us
Vicar for Priests
Rev. Jeff Shooner (502) 585-3291, Ext. 1101
Associate Director for Vocations
Carrie Williamson (502) 636-0296, Ext. 1270
Secretary
Donnia Schlaff (502) 636-0296, Ext. 1271
We are located at:
The Maloney Center
1200 S. Shelby Street
Louisville, KY 40203
Phone: (502) 636-0296
Fax: (502) 636-2379
General e-mail address: vocations@archlou.org